Take Action for the Ocean – Donate Today!
Kriss, how do you take action for the ocean?
The children who attend REEF's Ocean Explorers Summer Camp are inspired to take action to protect the ocean through fun learning experiences, like 10-year-old camper Kaiya, who said, "I had an adventure snorkeling and finding things I never even knew about!"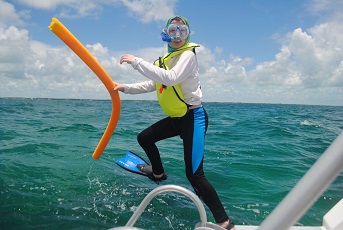 Whether you are young or simply young at heart, education is the first step to fostering an appreciation for our ocean environment. Through REEF's Explorers Education Program, we use hands-on educational activities and lessons to inspire and engage ocean enthusiasts of all ages. Our conservation and education efforts make a big impact on so many, and we need your support to ensure these programs can continue. Please donate today – your contribution will be matched!
We are currently in the midst of our largest ever fundraising effort. Our goal is to raise $150,000 this summer, and all donations made through August 31 will be matched dollar for dollar. You can donate securely online at www.REEF.org/donate, mail your donation to REEF at PO Box 370246, Key Largo, FL 33037, or call us at 305-852-0030.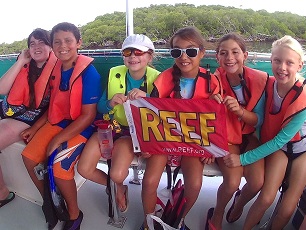 In addition to our Summer Camp, REEF's Explorers Education Program serves a diverse audience of locals and visitors, including dive clubs, schools, scouts, lifelong learning travel groups, and universities, through year-round programming at REEF Headquarters.
As our programs have grown, so has our need for space. This summer, we are transforming the REEF Campus by adding a new Interpretive Center building, installing educational exhibits in the existing REEF Headquarters building, and creating a Native Plants Trail. This facility will engage more than 60,000 visitors annually through discovery and interpretive displays, helping us to foster a larger, more impactful community of ocean stewards!
Help us educate and inspire others to take action for the ocean by making a donation today, and support the conservation of our blue planet. If you have already given, thank you! Because of your support, we are already more than halfway to our goal. We couldn't do this without members like you!
Best Fishes,
Paul Humann
REEF Co-Founder
P.S. As a special thank you to our generous donors, all contributions of $500 or more this summer (by August 13) will be honored with a brick in the "Pathway to Ocean Conservation" that we are installing at REEF Headquarters. To learn more, visit our Interpretive Center webpage.