Tofino Expeditions – Explore Headwaters Of Ecuadorian Amazon by Sea Kayak
Here's a one-off chance to save $500 per person on a 10-day Amazon paddling adventure April 21-30, 2017, with sea kayak specialist Tofino Expeditions.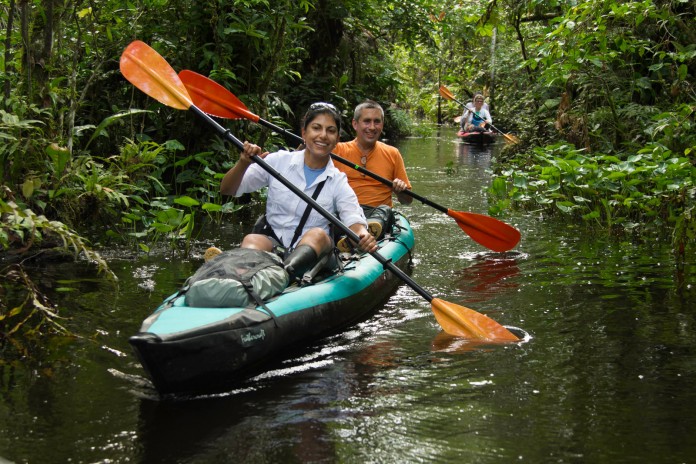 Pioneer of North American-style sea kayak touring in remote regions of the world, this journey into the Ecuadorian Amazon utilizes three modern lodges along an isolated route through the natural wonders of Yasuni National Park and Cuyabeno Wildlife Reserve. 
The rate includes the services of a veteran tour leader and local naturalist guides, Feathercraft® tropical expedition sea kayaks, all accommodations, most meals, motorboat transportation to access kayaking sites, kayaking instruction as needed, safety equipment, attractions, airport transfers and ample bottled water. 
This adventure, typical of all Tofino Expeditions' programs, is all about water, discovering from the silence and intimacy of a kayak, worlds in and around rivers, creeks and tributaries that otherwise remain hidden.
The gateway city is Quito, Ecuador. A short fight from here transports guests to the town of Coca and the Napo River, the largest tributary of the Amazon in Ecuador. Guests board a motorized dugout canoe for a two-hour ride to Sacha Lodge, an internationally renowned birding location set amidst jungle canopy and accessed from the river by hiking through the rainforest to Lake Pilchicocha. Afternoon kayaking and a night walk through the rainforest begin to stamp this foreign territory indelibly on reality.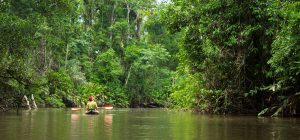 The next river explored is the Indillana River that flows out of Yasuni National Park, a vibrant ecosystem which boasts the highest concentration of flora and fauna species in the world. A creek near Sacha Lodge reveals squirrel and white-bellied spider monkeys while guests are enroute to the lodge's 100-foot-high and 900-foot-long canopy walkway. Later, a paddle down a small blackwater tributary may showcase the shy and elusive river otter and the well camouflaged three-toed sloth. 
Amazon Dolphin Ecolodge accessing Pañacocha Lake and Pañayacu River offers opportunities to float with pink freshwater dolphins. At the headwaters of this river guests paddle into a pristine blackwater lagoon and riverine system in the narrow gap between Ecuador's two largest rainforest protected areas: the 982,000-hectare Yasuni National Park and the 600,000-hectare Cuyabeno Wildlife Reserve. Descending the Pañayacu brings guests to Garzacoha Lake and La Selva Lodge. Here is an exploration of indigenous culture including herbal medicines, foods and ornaments. A tour of a garden chacra (small farm) is followed by a visit to the house to experience the Kichwa tradition of hospitality and open a window into the everyday lives of the people who make their homes in Amazonia. However, nothing compares to one of the most remarkable wildlife displays in the world — a clay lick where hundreds of parrots and parakeets perch in the treetops and then descend to a clay bank to ingest the mineral-rich soil. 
Returning from the jungle for a tour of Quito's Old Town, a UNESCO World Heritage Site, may jar the senses. But it is comforting to see that some of the faces met at the jungle lodges and along the rivers are also familiar here in the bustle of street life. Guests lodge at Quito Hotel Patio Andaluz, an elegantly renovated colonial home near the historic district; and for early and late arrivals/departures at Wyndham Quito Airport near the terminal.